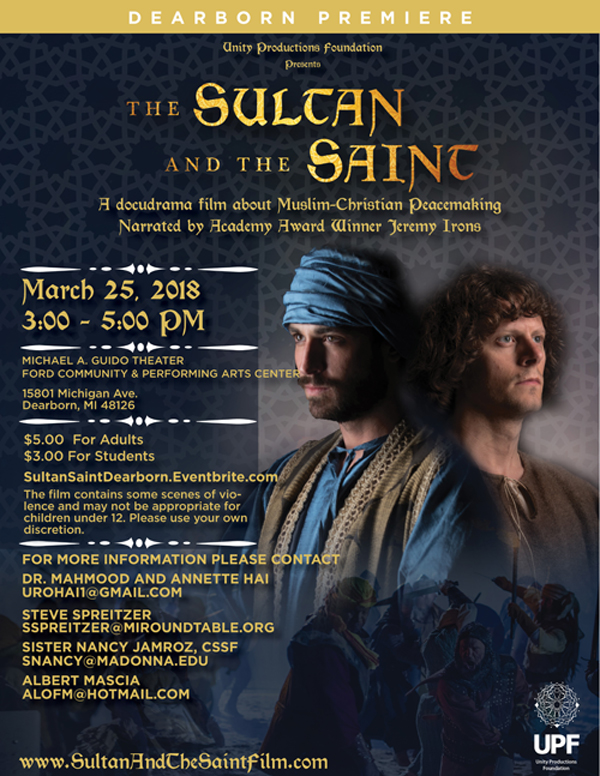 SULTAN AND THE SAINT
IMPACT POINTS & SELECT REVIEWS
MILLIONS OF VIEWERS
For 12/17 PBS broadcast, PBS.org, Amazon, Itunes, and international channels.
POSITIVE REVIEWS
DOZENS including The Boston Globe, San Jose Mercury News, The Houston Chronicle, Christianity Today, The National Catholic Reporter, America: The Jesuit Review and many others.
FILM FESTIVALS
18 laurels including the Gold Prize at Germany's World Media Awards, The Award of Excellence at the Communicator Awards, and Best Documentary at the Christian Film Awards.
FAITH LEADERS
Over 1000 watched the film at 13 Christian and other interfaith leadership events.
SHORT BONUS FILMS
8 Produced including: Jesus in Islam and Respect for Religious Minorities in Islam.  These films are available on sultanandthesaintfilm.com and PBS.org.
PREMEIRES
Almost 100 with over 25,000 attendees.
MAJORITY ATTENDANCE
at premieres identified as Christian, followed by Muslim and Jewish.  
CHURCHES AND CHRISTIAN UNIVERSITIES
organized over two-dozen premieres including Catholic and Evangelical.
90% POSITIVE
evaluations from attendees who said the film will help promote peace and greater understanding.
500 ORGANIZATIONS
Including Muslim, Christian, and other civic organizations collaborated together to organize the premieres nationwide.
PEACEMAKER AWARDS
created by UPF were awarded to over 75 people at local premieres.
SERVICE PROJECTS AND DIALOGUE OPPORTUNITIES
were announced at nearly all premieres.
FACEBOOK
102,000 new followers during the premiere tour.
YOUTUBE
1.8 million views of Sultan Saint trailer and other content.
TEACHER TOOLS
including lesson plans have been developed in concert with Georgetown's Center for Muslim-Christian Understanding.
LIVING ROOM PARTIES
80 took place around the country during the national broadcast.
CLASSROOM AND CHURCH SCREENINGS
6500 scheduled for 2018 funding permitting.
EVANGELICAL – MUSLIM DIALOGUES
50 scheduled for 2018 using Sultan and the Saint funding permitting.
Learn more at: